I'm Amanda, aka The Buzzed Artist.
Since 2017, I've helped hundreds of people get started on their creative painting journey and better express themselves through acrylics – and what we all have in common is this: We all start from zero. 
Let's Get Started Right
What Do I Need to Start Painting?
Knowing what supplies are out there and how to use them is a great way to learn and get better at your craft.
That's why I put together a free guide, The Acrylic Artist's Toolkit that sets you up with all the right tools you need to know in order to make amazing acrylic paintings!
How Can I Start Practicing?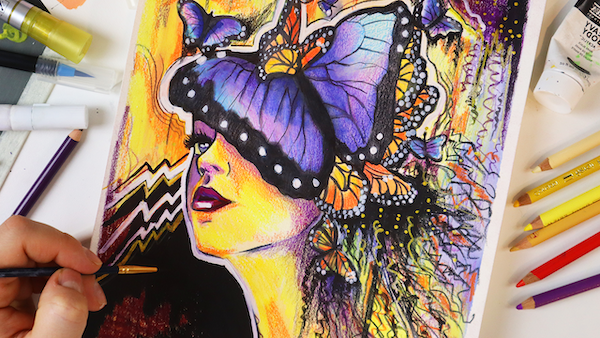 Practice helps you go a long way in your painting journey, mainly because you're taking action. 
If you want to better hone your skills, get fresh art inspiration, and love yourself in the process, be sure to subscribe to my Youtube channel.
Take Your Art to the Next Level
If you're ready to get serious about painting – or have a more hand-held learning experience to really get into the paint slapping mood, you can try my art classes on Skillshare FREE for 4 weeks.
Create Gorgeous Pop Art
If you want to know what art supplies you need to creating your own gorgeous pop art, consider downloading my free guide The Pop Artist Toolkit to help get you started!
Where can I share my work?
Posting our progress with our art is super motivating, not only to us as the creators but to other artists as well. Plus, it helps beget new ideas, share in triumphs, and come together to support one another. 
This is why I put together a little growing private art community on Facebook, called The Buzzed Artist Community, where artists and creatives like you and me can share our work, our progress, our stories, and help cheer each other on as artists!
Click here to apply to the group. You must answer the entry questions in order to be accepted!
Let's get creative
I'm here for you as both a guide and as a friend.
I want the Buzzed Artist experience to be OUR experience. That's how we all learn and grow together, including me.
I'm not an exemption or extra-special, just a normal crazy chick who enjoys painting and sharing in the experience.
In everything I do here with The Buzzed Artist, I truly want to make the creative journey a fun one!