Looking for that perfect unique gift for the artist in your life that likes to paint? Here is a list of gift ideas that'll get the creative person in your life excited and ready to create more art.
I love to paint. It's one of my favorite things to do, and I've been doing it for years. But if you're new to the craft, then painting can seem like a daunting task.
To make things easier, I've compiled — with help from fellow artists — some of our favorite supplies and accessories that will make your gift-searching endeavors go more smoothly than ever before.
Pin it for later! ⤵
Disclaimer: some links used in this post are affiliate links, which means I'll earn a small commission if you purchase using my links at no extra cost to you. I only recommend products I think will be helpful to you and bring you one step closer to creating beautiful acrylic masterpieces!
---
1. Paint Water Mug
I cannot tell you how many times I have accidentally drank from my paint cup while in the throes of painting.
It's definitely not pleasant.
So, to avoid this, why not gift your art friend a dedicated paint water mug that will stop any artist from ingesting another swill of murky gray liquid.
What I love is the neon yellow that is the perfect nonverbal way to stop drinking that yucky paint water.
2. Canvas pens
I underestimated how much I LOVE using canvas pens in my work – especially because it gives me so much control and it's a simple and fun way to make art. Canvas pens, like these, are easy to use, and they're also an excellent gift idea for any artist who loves making art.
Just pick up a canvas pen, and you'll be on your way to creating something amazing.
3. An easel or painting stand
If you have an artist in your life who likes to paint, then chances are that they need an easel or a painting stand.
An easel is a very simple device used to hold a canvas steady while painting. A good easel can be very expensive and should not be purchased as part of a gift unless you know exactly what your friend's budget is and whether or not they have the type of space where an easel would fit.
What I like about this super affordable easel is I can adjust it to various heights to either be on the floor or on a desk – plus, it can be disassembled and fit neatly inside a small carrying case – hello art on the go!
4. A paintbrush case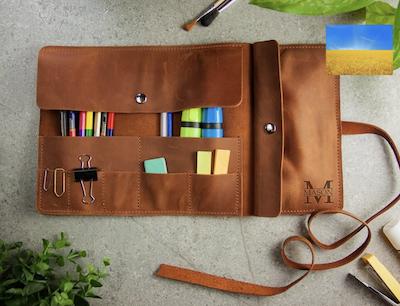 A paintbrush case is a great gift for the artist who paints because it can hold brushes, is made from either canvas or leather, and can be personalized with their name or initials.
Plus, your artsy friend can simply roll up her case and bring her brushes anywhere she goes!
If you think your recipient will love having this new addition to her studio gear collection but aren't sure what color would be best—go with black! It's classy and timeless while also being neutral enough that it won't clash with any decorating scheme your artist happens to have going on in her space right now.
If you're looking for something a bit more simple OR can need more brush capacity, I like this particular brush case because it has two rows of sewn pockets that can hold up to 22 brushes.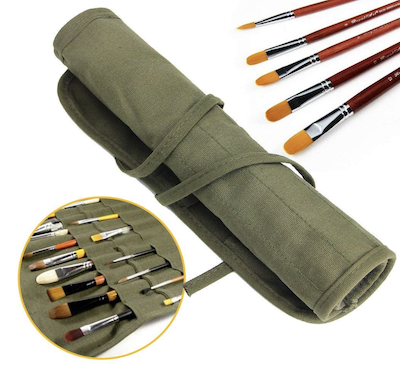 If you don't know if she already has one of these but suspects she does, look at her current brush case (if there is one) for a size comparison; most cases measure about 6″ wide by 4″ tall by 2″ deep.
5. Art socks
We're not going to lie, socks are a great gift for artists. In fact, they're probably the best thing you can give an artist who paints—that is, if you want to get them something practical and useful.
Art socks, like these cute best-sellers, are easy to store and transport (just throw them in a bag). And, they protect your little footsies from the cold or from wild paint splashes! What else could an artist ask for?
6. motivational books for artists
Let's face it: artists are a creative bunch, but sometimes they need a little extra inspiration.
In fact, we're always looking for new ways to get inspired, feel motivated, or be more productive in their studio. If you know an artist who could use some focus and motivation (or if you're the one who needs it), then these books are sure to help them keep going.
7. A customized painting smock
You can be the most talented artist in the world, but having your clothes are covered with paint is not cute.
Enter, the artist's smock.
A smock or apron is a must-have for any artist. It protects your clothes from paint splatter and other messes, which means you'll be able to focus on what matters: creating an amazing painting.
AND don't just settle for any old smock, when you can create amazing customizable ones for your artsy friend, like this colorful apron from my design store, Lavender Fox.
Customized painting smocks are a great option because not only do they come in all sorts of colors and patterns (including animal prints), but they also have plenty of pockets where you can store everything from pencils to brushes.
8. PERSONALIZED STICKERS
Does your artist have their own products they sell? Perhaps giving them the gift of customizable stickers that put their brand on the forefront and spread the word of how awesome they are will do just the trick.
9. Personalized Sketchbook
If there is one thing any artists needs, it's more sketchbooks to store their endless doodles, sketches, and bajillion ideas. And the best kinds of sketchbooks are usually the ones with a big personal touch to them, like these sketchbooks that you can personalize with your artist's name.
10. A hand-painted blank journal or sketchbook
To keep going with the personalized sketchbook ideas….
…a hand-painted blank journal or sketchbook is a great gift for any artist.
They are a fun way to express your creativity and/or thoughts, and make a nice addition to any desk or workspace.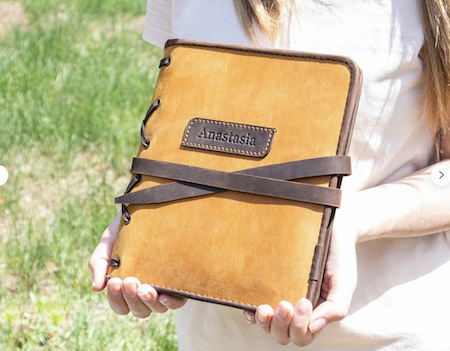 I've found that they also make wonderful gifts when you're looking to give something special but don't know what else to get someone who paints (which is usually every artist). Here's why:
Hand-painted journals can be customized. You can choose from many different styles of artwork including abstracts, landscapes, still life paintings and more. You could even get your friend's favorite subject matter painted on their new journal!
In fact, you can contact several artists via Etsy to give the sketchbook a special touch of personality, like this artist's sketchbook cover art.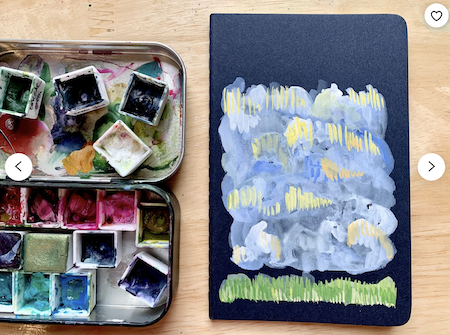 Hand-painted journals are unique contributions to the world of art in general. It's not like there are hundreds of thousands of these floating around already; most people probably haven't seen one before—let alone owned one!
quick side note: you can also make your own custom painted sketchbook cover for your creative friend, and this tutorial post shows you how.
11. Art Store Gift Cards
This one is pretty straight forward.
The one thing you can't give to an artist is time. So, if you want to show that special someone how much their talent means to you and make sure they have the tools they need, try giving them a gift card from their favorite art supply store.
Some great art supply stores include DickBlick, Michael's, Jerry's Artarama, and Art Supply Warehouse (just to name a few).
12. Professional-grade watercolor paper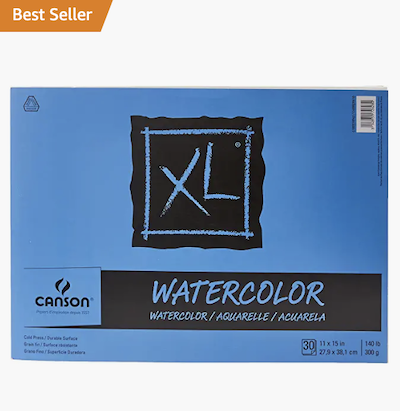 Professional grade watercolor paper is a must-have for any acrylic painter or watercolorist.
At first glance, it may look like regular paper, but there's one big difference: professional grade watercolor paper is thicker and more absorbent than standard copy paper. This means that when you dip your brush in the water and paint on it, the color will flow beautifully onto the page without being absorbed into the surface of your painting space.
It's truly addicting, and it's why I always choose watercolor paper when painting with my acrylics.
To make sure you're buying high-quality product from an artist-friendly supplier (aka someone who understands what artists need), I highly recommend looking for cotton or cotton/linen mixed papers—the latter of which is known for its strength and absorbency properties that make it ideal for use with wet paints. In fact, this watercolor paper is a great gift option.
Getting gifts for creatives painters is soooo much easier now.
If you've ever struggled to find a gift for an artist, you KNOW how difficult it can be. You don't want to get them something that they already have or don't need, but at the same time, having an idea of what they do need is almost impossible.
Fortunately, things have changed! Artists are now more open than ever about the tools and supplies that help them create their art. And because so many people recently started painting as a hobby (or for fun) there are tons of new products on the market that make creating even easier and more enjoyable.
Final Thoughts on Gift Ideas for Artists & Painters
Hopefully this article has helped you to find an awesome gift for the artist in your life.
I love all of these gifts, but if I had to choose just one it would be the watercolor paper (because mmmmm I love how that versatility and way it makes my paintings come out va-va-voom!). It's so much fun and great for anyone who likes painting with watercolor or acrylics!
Pin it for later! ⤵