If you're looking for a different ways to spice up private parties, a do-it-yourself paint party is a fun way to let loose and get creative on the canvas with your acrylic paint. Plus, it's an all around great time for you and your guests that doesn't require any art skills or access to an art studio. #thankgod
And it's even better when you can do it in the comfort of your own home with your close friends and family as opposed to a more expensive event at a studio or noisy, crowded restaurant.
Pin it for later! ⤵
Plus, you don't have to drive home because…well… you're already there. #pourmeanother
Luckily, setting up canvas paint parties (aka a "paint and sip") is not as huge a production as you may think – in fact, you don't really need to be a painting aficionado or hire an instructor (or professional artist) to teach it live.
If you're curious (or in a rush):
✅ This is my favorite way to throw a DIY painting party without taking too much of my time or blowing a gigantic hole through my budget.
You only need a few important things to make your canvas paint party so much fun with your guests – and get you doing more in the future without breaking the bank.
So in this post, you'll learn great options on how to host your own paint party at home (or wherever your heart desires), showing you all the painting supplies you'll need, where to get them at a great price and how you can get to painting like Bob Ross in no time.
no wild goose chase required 🙂
👉 Now that you got an overview of the items you need, let's figure out what specific items to look out for and where to find them.
Disclaimer: some links used in this post are affiliate links, which means I'll earn a small commission if you purchase using my links at no extra cost to you. I only recommend products I think will be helpful to you and bring you one step closer to creating beautiful acrylic masterpieces!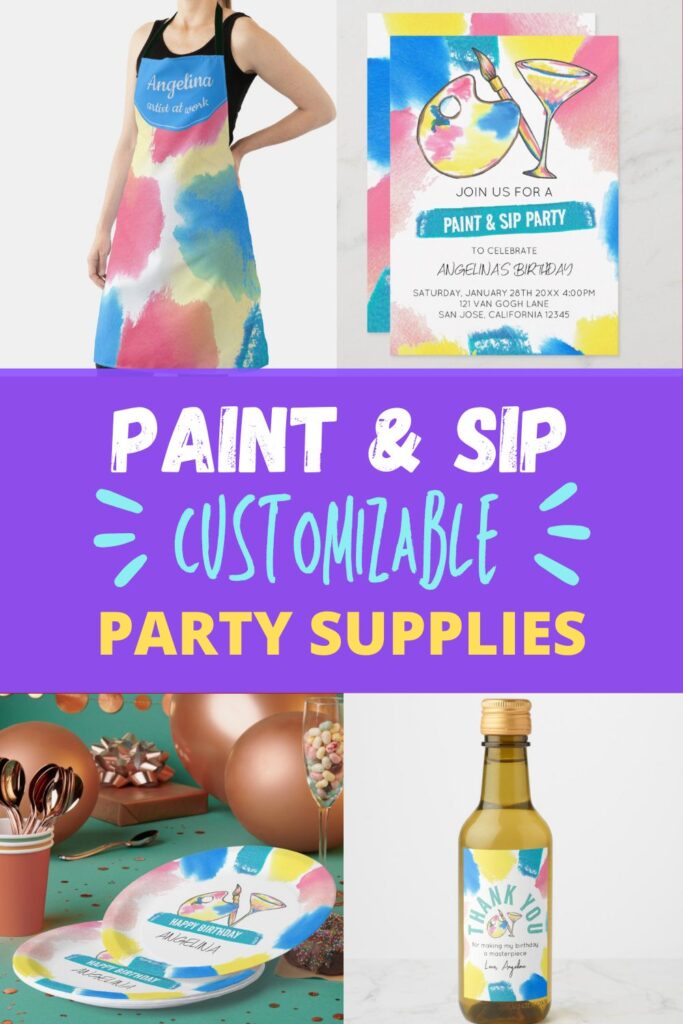 ---
How to Set-up a DIY Paint Party at Home
Whenever you are throwing your DIY paint party, I recommend planning it in one of two ways:
Find a painting you'd like to make and then gather all the supplies yourself
Buy ready-made paint kits (aka paint party in a box) with all the supplies and painting instructions included
We'll cover both routes in this post, each with their pros and cons. If you are definitely interested in one versus another, simply click the titles below to take you straight to the instructions.
---
METHOD 1: Host a DIY Paint Party from Scratch
Hosting a DIY paint party from scratch will involve a little legwork on your behalf, but if you like to shop and grab various items based on a custom painting tutorial you like, this is the method for you.
Step 1: Find a painting tutorial you'd like to follow
The first thing you want to know for your paint-and-sip event is what you're actually going to paint. There are a ton of avenues to find fun paint party ideas, one popular one being Youtube.
Youtube: Free Step-By-Step Acrylic Painting Tutorials
Different artists, including the Buzzed Artist (that me!), feature step-by-step acrylic painting tutorials for all different skill levels. Simply find a painting that appeals to you from the video thumbnail and check out the video description on what type of brushes and paint colors you'll need.
Other youtube painting channels you can check out are The Art Sherpa, Tracie Kiernan and Lachri Fine Art (just to name a few).
👉Click here to find more painting tutorials on Youtube.
SkillShare: Easy-to-Follow Video Classes
SkillShare is a platform that I recently discovered has a plethora of acrylic painting classes – each of which have easy to follow and bite-sized step-by-step videos. This makes it perfect for your paint party setup.
The big difference from Youtube is that each class is vetted by the SkillShare team for quality and you pay a one-time fee for annual membership.
✅ You can try SkillShare for 1 MONTH FREE if you sign up using this link and gain access to hundreds of classes and step-by-step tutorials (which means a LOT more painting parties!)
👉 You can check out some of my step-by-step SkillShare painting classes here.
👉 Plus, here are other acrylic artists that have amazing painting classes available for you to try ⤵
Etsy: Step-by-Step Painting Tutorials & Printables
Another great place to find paint party ideas and step-by-step tutorials is Etsy.
For example, if you search "step-by-step painting tutorial" or "acrylic painting tutorial", you'll find lots of beautiful painting designs from various artists who teach for a living.
👉 Here are some amazing acrylic tutorials that were sure-fire hits at past paint and sip parties ⤵
What I like about the Etsy route is that you'll not only get the step-by-step instruction, but in most cases, a PDF copy of all the supplies you'll need – which makes the next step SO much easier.
Step 2: Find your Paint Party MATERIALS
Once you've picked out a painting, you'll want to start gathering your art supplies and paint party materials. On a high-level, you'll need to get the following:

---
Canvas
When it comes to canvas material for a paint party, you want to get 1 canvas per person (unless your painting tutorial says otherwise), and you can choose any size you like. Some standard canvas sizes are 8″x10″, 11X14″, and 16″x20″.
Here's a lil' hot tip:
✅ A good "go-to" canvas size I have used in the past are these 11″x14″ pre-gessoed stretched canvas.
That canvas size is big enough to stay fun and loose without being too challenging or intimidating like a super small or bigger canvas. Plus, your guests can immediately hang up their paintings on the wall thanks to the framing.
And if you can get these packs for under $20, you're getting a great deal. ✅ Check the current price on Amazon.
But, if you want to save a bit of money, you can even get pre-gessoed canvas panels– which are thin and flat and can be popped into a frame of your choice.
You can buy these canvas in bulk from lots of art supply stores like Michaels and DickBlick…
---
Brushes
In the painting world, brushes come in all shapes and sizes, and it can be a tad overwhelming to figure out which ones you need. But really, it all depends on the painting you're doing for your paint party.
What paint brushes should I get?
Depending on the art tutorial you are following, there should be a list of suggested brushes to use for the painting.
But, in case you don't have a good list of art brushes to get (or you just want a catch-all set of brushes for your painting party), these paint party brush sets each have 10 different brushes per pack (and if you can get them under $25, it's a great buy.)
You'll just have to improvise with brushes that are similar in size and shape to the tutorial you are following.
In fact, Amazon has got a pretty decent variety of acrylic brush packs to choose from. Just make sure you choose packs that have a variety of brush heads types and sizes.
Even though this Royal Brush Big Kid's brush kit says it's for kids, it's also something adults can use too. It comes with individual comfort-grip brushes each with different color handles, making it easier to tell your guests which brushes to use for the specific step in the painting process.
Individual Brush Picks
If you want a more customized set of brushes, these are what I personally use for 80% of my paintings:
Flat Wash Brush
Filbert Brush
Shader Brush
Detail Round Brush
Read more: Best Brushes Every Acrylic Painter Should Have
For a 16×20″ painting, I usually like to have a large #16 filbert or #1 flat wash brush for backgrounds, smaller shader brushes (like #10) and round brushes (#10 or #8) for medium strokes, and detail round brushes for the finer lines and details.
---
Paint
When it comes to what type of paint to choose for paint parties, I always opt for acrylics because it dries relatively quick and is easy to work with. Now, the bigger question that usually comes up is….
how much paint should I get?
In order to figure out how much paint you should buy for your painting party, you'll want to know how many people are going to be painting and what colors are being used for the painting (the painting tutorial you chose should give you a list of all the colors used).
A good rule of thumb when it comes to paint amount is 0.2 oz (or quarter-size) per color per person.
---
Easels
Can you make your own easels?
You can also make your own easels, which does take more time but if you have some to spare, consider this do-it-yourself option. Here is a quick video tutorial on how you can make your own easels using just cardboard in a unique way.
---
Palettes
Palletes are simply the things that hold the paint and are used for mixing and moving your paint around with your brush. Having done many paint parties, I have used various types of palettes and came to prefer certain ones over others.
---
Aprons
---
Now that we have gone through each of the supply items you'll need for a DIY painting party from scratch, here is another option that cuts your planning time and budget spend AND is a one-stop-shop….
METHOD 2: Paint Party All-in-One KitS
Paint party kits are that perfect solution if you're strapped for time and/or the thought of having to hunt for all the different supplies makes you nauseous.
If this is you, I got you boo.
Paint party kits contain almost every single item you'll need to host the perfect paint and sip, including the specific brushes, canvas, paint colors and amounts, step-by-step tutorial, (and easels…sometimes!).
All you really need to do is enter the amount of guests you'll host at your paint party and the specific painting you want to make. And BOOM, a kit, with all the supplies in the right quantities, will arrive at your doorstep.
there are lots of artists with amazing paint party kits, but I found one art shop I LOVE…
Want paint party kits that even include easels? This shop has the entire painting party experience in a box.
Other highly-rated paint party kits for adults shops include the following:
When choosing a paint party box shop provider, make sure to read the description to see what is included in the kits and the length of shipping times. These shops have fairly fast shipping times (about 1 week arrival after your order), so a little planning will go a long way.
Can I Find Paint Party Kits on Amazon?
---
Concluding Thoughts on Throwing Your Own DIY Painting Party
Once you have gathered all your supplies, it's time to set everything up.
I always like to set up the table with a specific spot for each guest – and in that spot, I would place a canvas propped on an easel, paint plate with paint in it, paint cup, brushes, a paper towel and apron (usually draped on the chair).
You can check out my Paint and Sip Party Supply collection to get more customized items like invitations, wine bottle labels, and party favors to make your painting party even more memorable.
That way each guest will be fully ready to go once they find their seat and tie their aprons on.
I also recommend having a large screen to cast onto (like a TV or monitor) to access the step-by-step acrylic painting instructions online – and if there are printable instructions, to print those out as well.
Be sure your guests can see and hear the instructions, and I usually like to turn up the volume really high or get a set of portable speakers to help amplify the sound.
And of course, remember to have a lot of fun and enjoy the painting process – this is your time to let loose and make something new. If a painting is not coming out the way you or your guests like, take a break, sip some wine, and come back to it. Remember, it's all about having a good time
Plus, having a glass of wine (or strong beverage of choice) at the ready can certainly help get those creative juices flowing.
So, whether you decide to hunt for all the supplies from scratch or get a ready-made paint party kit, throwing a paint party is a great way to get creative, bond, and make a fun memorable experience that your guests will never forget.
---
Read More from The Buzzed Artist