There is just something about the fall that gets me in the mood to create with paint. I love painting landscapes and autumnal scenes, using both bright, bold and subdued colors because it screams "FALL!". Plus, creating something entirely on your own is so much fun and a great way to make wall art you'll be proud to hang up or a gift idea.
Personally, handmade pieces are a total win-win in my book.
Pin it for later! ⤵
There are so many fun and easy fall painting ideas for beginners that there's no excuse for not giving it a shot. I've gathered some of the best fall painting step tutorials on the 'net just for you. Just pick one you like, paint away, and hang them up on those blank walls.
---
Disclaimer: some links used in this post are affiliate links, which means I'll earn a small commission if you purchase using my links at no extra cost to you. I only recommend products I think will be helpful to you and bring you one step closer to creating beautiful acrylic masterpieces!
What Do I Need to Start Painting on Canvas?
First things first, to begin your canvas painting journey, you'll need a step-by-step tutorial and the following supply list:
Paints: Oil and acrylic paint are best on canvas, but if you're a beginner or strapped for time, acrylic paint is the way to go. But if you want to follow these easy canvas paintings using oil paints, that is totally fine too.
Paintbrushes: Beginners would benefit from having a collection of a few brushes, which will help you try different brush strokes without blowing your entire budget.
Canvases: Canvases come in many shapes and sizes, but my recommendation is to use a basic cotton, pre-gessoed blank canvas.
Palette: Pick a painter's palette or a plate to create a paint mixing surface.
Smock: If you don't like paint getting on your favorite shirt, be sure to grab a smock or old t-shirt.
👉 Read more: How to Throw a Fun Canvas Painting Party You'll Never Forget
A Note on Paint Colors: anything fall-related is perfect, especially burnt umber, brown paint, black paint, reds, yellows, and oranges is perfect. However, different colors like blues and greens is a great idea for making your fall-themed paintings pop even more. The color selection is totally up to you.
Fall Canvas Painting Ideas You'll Absolutely Love
---
1. Autumn Forest Painting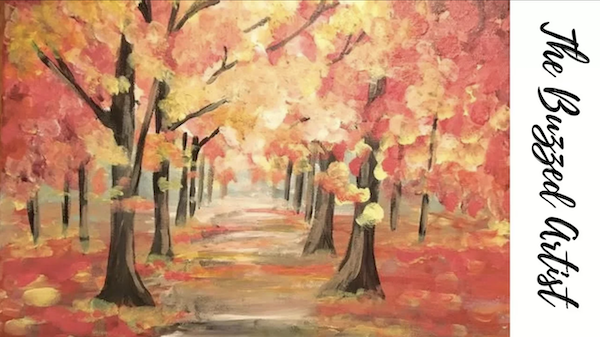 One of the prettiest experiences of the fall is walking under the colorful trees watching the leaves fall. This painting tutorial is a great way to dive into the autumnal magic, with a line of trees, red and yellow leaves, with a pathway.
2. Boho Pumpkin Painting
I freaking love pumpkins (who doesn't?!), so painting them on canvas is a must. This pumpkin painting has a chic aesthetic and is one of the more easy painting ideas to try. Just choose your preferred colors and away you go.
3. White & Orange Fall Pumpkin Patch
Want a chic version of the pumpkin patch? This painting canvas idea walks you through how to create more subdued tones of whites and blues, with one orange pumpkin in the middle.
4. Fall Sunflower Painting
One of my favorite fall visitors is the sunflower – bright and brimming with colors of orange, yellows, and browns. This painting provides step instructions on how to capture this autumnal treasure.
5. Black Cat Painting
Fall and black cats totally go together. This adorable painting features a black cat wearing a witch hat against the glow of the full moon in the night sky.
6. Aspen Tree Palette Knife Painting
I love the colors of aspen trees and combined with the impasto, large strokes feel of palette knives, you got yourself a gorgeous abstract textured painting. This is quite a different technique to play with paint!
7. Fall Truck Painting
There is just something so nostalgic about a truck in the fall weather – this DIY canvas art idea is perfect for a living room or dining room especially with how welcoming it feels.
9. Wicked Witch on a Broom Painting
It wouldn't be Halloween without a wicked witch making her appearance. This bodacious witch has a sly smile while sitting on a broom and holding a pumpkin.
10. Wicked Witch and Spider Painting
This gorgeous wicked witch painting has got a special flair with her long wavy hair, featuring a deliciously droopy witch hat and a friendly spider against a spooky moon background.
11. Scarecrow & Pumpkins Painting
The harbinger of the harvest, the scarecrow is perfect for bringing those welcoming colors of fall into your paintings.
12. Dark Academia Wicked Spell Book Decor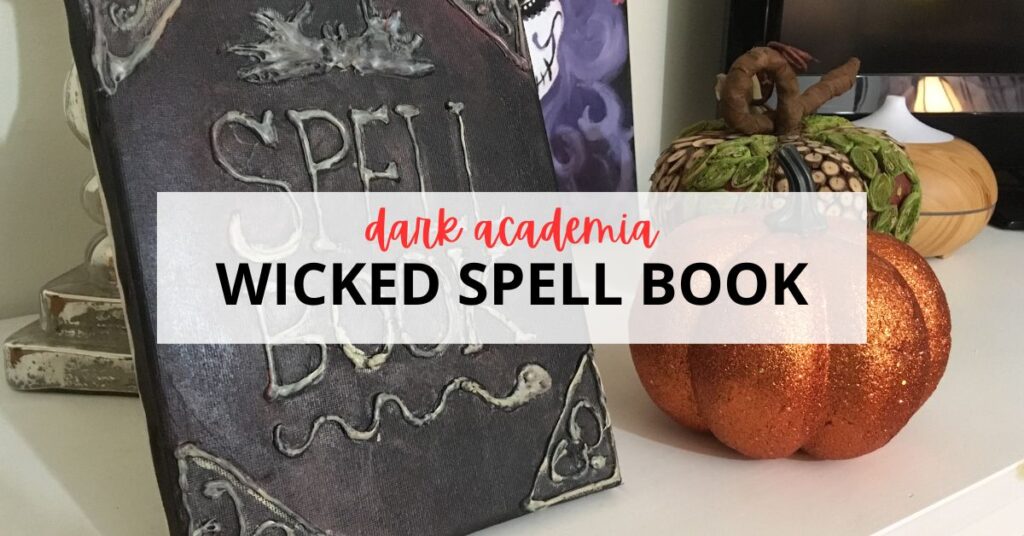 You can literally turn your canvas into a spell book – with just a little hot glue and acrylic paint. The best part of all: it's surprisingly easy to make with a very cool finished result. See how in this step-by-step post!
13. Fall Leaves & Pumpkins
It wouldn't be autumn without the gorgeous colors of the falling leaves – which has lots of yellows, reds, oranges, and browns (and even some dark purples!). This tutorial shows you how to capture the rustic glory of fall leaves, with a pumpkin and wood background.
14. Fall Scarecrow in HayField Painting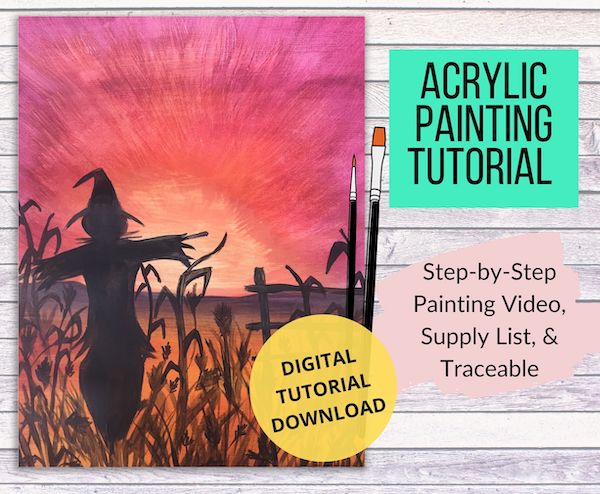 This painting features a scarecrow silhouette in a corn field against a gorgeous magenta, yellow, and orange sunset background. A great way to dive into the nostalgic fun of fall and harvest.
15. Jack-o-Lantern Painting
This jack-o-lantern canvas painting features a cute face with a toothy smile AND some 3D textures like pumpkin stem and vines made from twine and popsicle sticks.
16. Poe's Raven Painting
Are you a fan of Edgar Allen Poe? This Raven acrylic painting features a black raven against a blended background with the famous excerpt from "The Raven".
17. Candy Apple Painting
Ah, the smell of kettle corn and fresh candy apples wafting through the autumn air is a fond memory – and this painting captures the ooey-gooey fun of this popular treat.
18. Fall Sunset Painting
Normally, sunset paintings take place on a beach in the summer. But, with all those gorgeous colors, it's totally perfect for a fall-themed backdrop.
19. Folk Art Ghost Painting
If you love the vintage style & folk art flair, this spooky fun DIY ghost is just waiting to greet your Halloween guests.
20. Fall Sunset Painting
If you're a fan of Dracula, these paintings are a great way to capture the great hooded, blood-loving, bat-turning dude.
21. Bride of Frankenstein Painting
If you love the more pop inspired type of art, this Bride of Frankenstein painting is a great creative way to give a modern edge to this horror classic.
22. Skeleton Tree Painting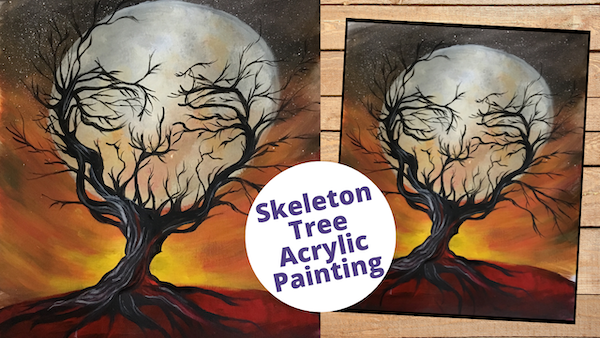 I'm all about illusions, so when I created this skeleton tree painting, I was over the moon excited. Set against a fall sunset sky backdrop, a pale moon and windy old tree create the illusion of a skull.
23. Church on Haunted Hill Painting
Haunted churches are the bread and butter of Halloween – so why not paint one on canvas? This scene features a pumpkin patch and windy trees with a haunted house tucked in the background waiting for its next visitor.
24. Haunted House With Pumpkin Patch Painting
Do you love spooky haunted houses? Jack-o-lantern pumpkins eerily smiling in the night? This acrylic painting is a wonderful snapshot of pure Halloween fun.
25. Spooktacular Wrecked Ring Pour Painting
If you're looking for a more abstract painting feel, acrylic pours are a great way to do just that. This Halloween pour uses black, orange, yellow, and reds to create a beautifully abstract painting.
26. Halloween Pearl Pour Painting
This Halloween pearl pour painting features the gorgeous colors of the season and it's an easy painting idea that creates a gorgeous result.
27. Halloween Pumpkin House Spray Paint Art
If you're really into spray painting, this jack-o-lantern pumpkin house is a beautifully textured yet doable challenge.
28. Spooky Castle Halloween Spray Paint Art
Utilize spray paint to create a spooky castle and graveyard with lots of depth, layers, and gorgeous texture.
29. Grim Reaper Painting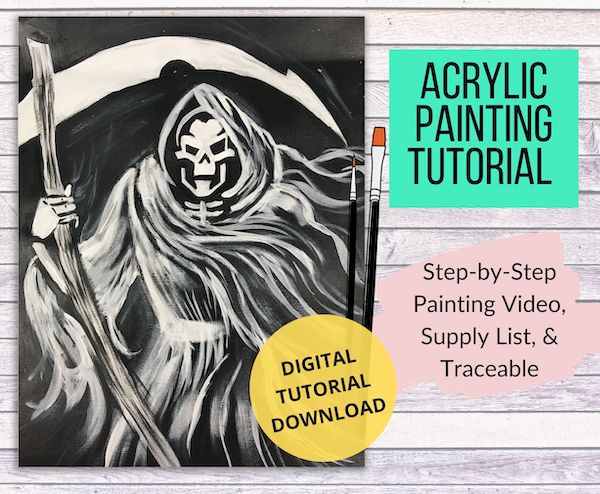 The Grim reaper has made a visit to your painting journey- this painting features a ghostly reaper wearing a flowey robe and holding a long scythe.
Concluding Thoughts on Fall Canvas Painting Ideas
So whether you're using a brush or pouring tons of paint through a strainer, there are many different ways to make an amazing art piece that will adorn your walls this fall season and make you feel completely proud of your artistic skills as a painter.
And I hope this encourages you to find more easy ideas for painting tutorials to follow – the world is your oyster. So hop on that creative train and paint away.
Pin it for later! ⤵