---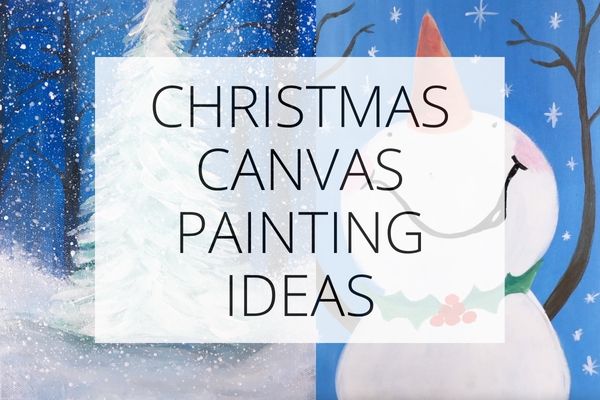 These easy Christmas canvas paintings is a great way to add some festive art or DIY Christmas decorations to your home. You won't need to be a professional artist or get expensive art materials to make something you'll actually really like; just gather your paint acrylics and brushes and follow along to the step-by-step painting tutorials.
So whether this is your first time painting, hosting a paint party or you're a seasoned paint slapper, there are all sorts of different great ways that you can bring the spirit of Christmas into your living room or by the Christmas tree, all with these easy painting ideas.
Plus, these easy Christmas paintings make for great personal gifts for a family member or close friend (and it totally beats a gift card any day) #justsayin.
---
Disclaimer: some links used in this post are affiliate links, which means I'll earn a small commission if you purchase using my links at no extra cost to you. I only recommend products I think will be helpful to you and bring you one step closer to creating beautiful acrylic masterpieces!
👉 Want to host a paint party with this tutorial? Here is exactly how you can set up a fun DIY paint party at home.
---
What Do I Need to Start Painting on Canvas?
Now, the first step to begin your canvas painting journey is gathering a step-by-step instructions and the following art supplies:
Paints: Oil and acrylic paint are best on canvas, but if you're a beginner or strapped for time, acrylic paint is the way to go. But if you want to follow these easy canvas paintings using oil paints, that is totally fine too.
Paintbrushes: Beginners would benefit from having a collection of a few brushes, which will help you try different brush strokes without blowing your entire budget.
Canvases: Canvases come in many shapes and sizes, but my recommendation is to use a basic cotton, pre-gessoed blank canvas. If you're looking for a manageable canvas size, go for an 11″x14″.
Palette: Pick a painter's palette or a plate to create a paint mixing surface.
Smock: If you don't like paint getting on your favorite shirt, be sure to grab a smock or old t-shirt.
Paper Towel & Water
👉 Read more: How to Throw a Fun Canvas Painting Party You'll Never Forget
A Note on Paint Colors: anything winter-related is perfect, especially blue hues, greens, white hues, and reds are perfect. However, different colors like orange and teals is a great idea for making your Christmas-themed paintings pop even more. The color selection is totally up to you. Plus, you'll want to stock up on a lot of white paint…because it'll go really fast.
EASY CHRISTMAS CANVAS PAINTING IDEAS YOU'LL ABSOLUTELY LOVE

---
1. A Snowman's Christmas
In this in-depth video tutorial, you'll paint this special snowman looking up into the wintery snowy sky. It's adorable and an easy way to spread a little cheer.
2. Red House in Winter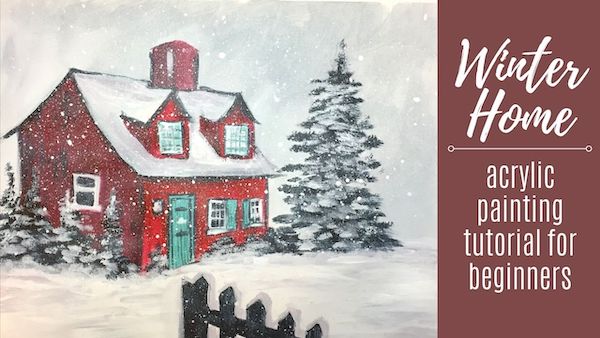 This winter home painting is a landscape featuring a little red house, a snow-laden pine tree, and a quiet flurry of snow. A bit more subtle, but gorgeous in this totally doable step by step tutorial.
3. Snowman Carolers
In this fun art lesson, you'll be painting a family of snowman carolers singing into the wintery sky. It's adorable and perfect for lovers of carols and music.
4. Pop Art Nutcracker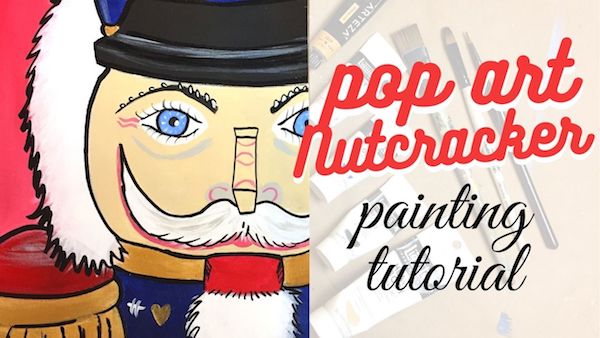 Love nutcrackers? This easy christmas nutcracker is given a pop art look and can make for wonderful decorative canvas paintings.
5. Gingerbread House
I adore gingerbread houses, especially those with heaps of frosting. And this tutorial is definitely one of the easy acrylic painting ideas you'll love to make.
6. Christmas Wreath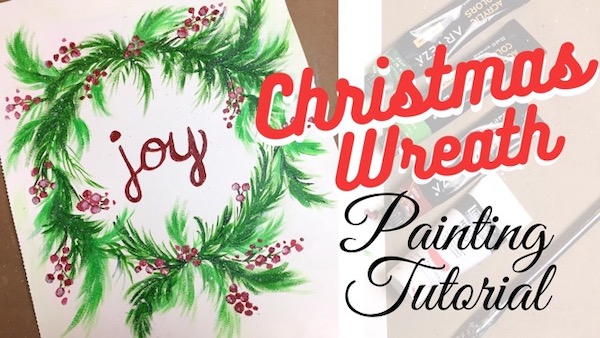 If you love wreaths and typography, this easy Christmas wreath tutorial is so much fun to follow. Add this design to Christmas cards or onto a big canvas and hang it up for the holiday season.
7. The Nativity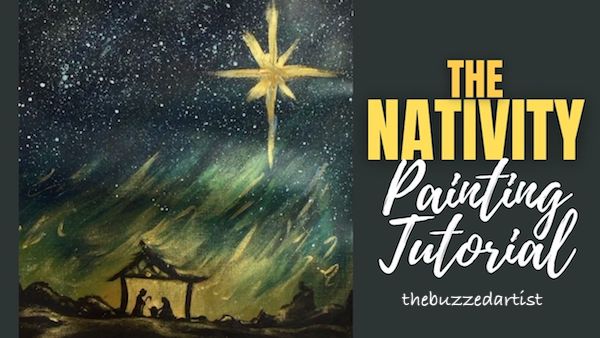 This beautiful rendition of the holy Nativity adds a bit of an abstract painting feel with a starry night to the scene, adding to the grandeur of the Christmas season.
8. Fir Pine Tree Branch
Want a cool, more realistic painting of pine tree branch? This tutorial is a great place to start and walks you through the simple yet effective methods to make fir branches on a Christmas tree.
9. Christmas Reindeer in Galaxy Sky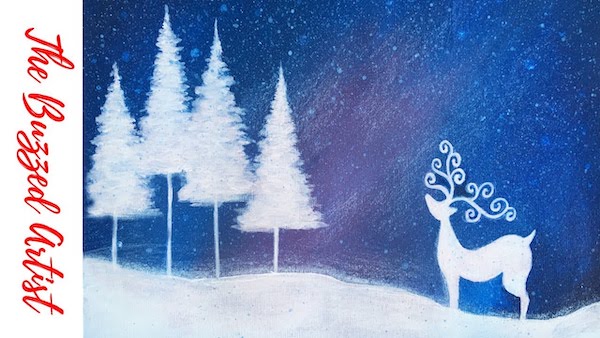 If you love a more modern looking painting, this Christmas reindeer galaxy sky tutorial is the best choice. Learn to paint a galaxy sky, white pine trees, and a reindeer with trendy antlers.
10. Snowy Christmas Tree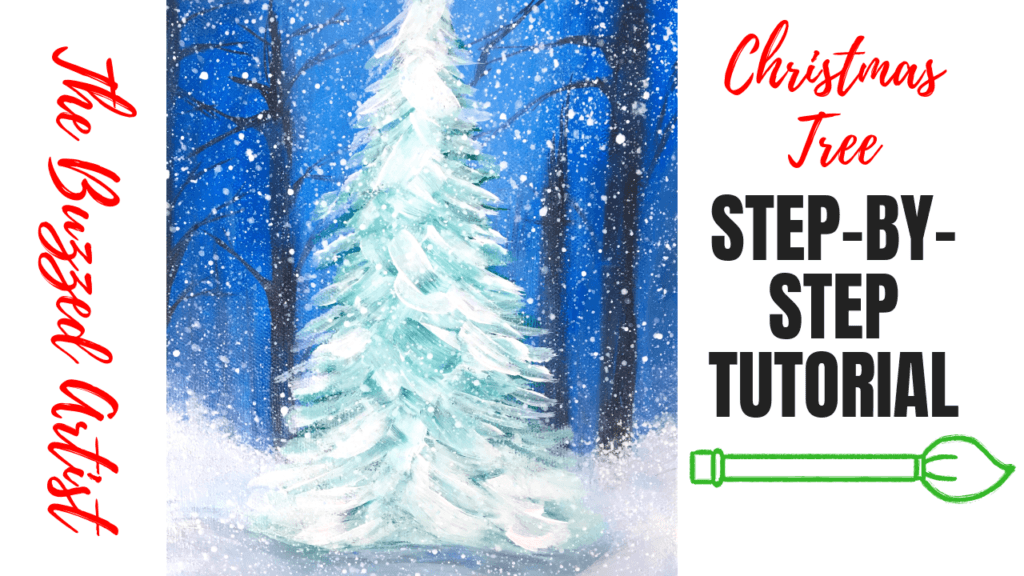 If you're looking for the iconic christmas painting look, this step-by-step christmas tree is just the perfect painting to try, all with simple brush strokes.
11. Jolly Old Saint Nick
Want a more cartoony painting option? This Santa face painting is adorable and very easy to follow.
12. Christmas Elf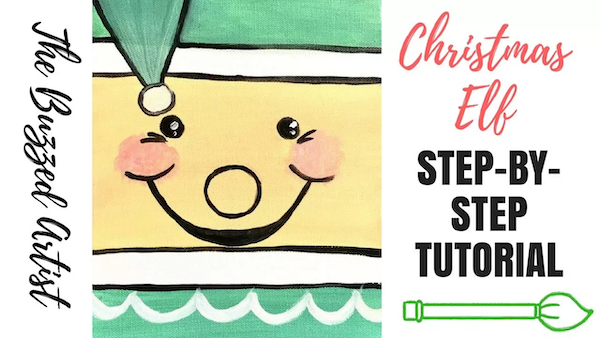 This Christmas elf is all smiles and cuteness – and if you love anything Rankin Bass, you'll enjoy this tutorial.
13. Rudolph
Rudolph has made it to the canvas scene in all his cuteness. This simple to follow tutorial is a great way to get into the holiday mood.
14. The Grinch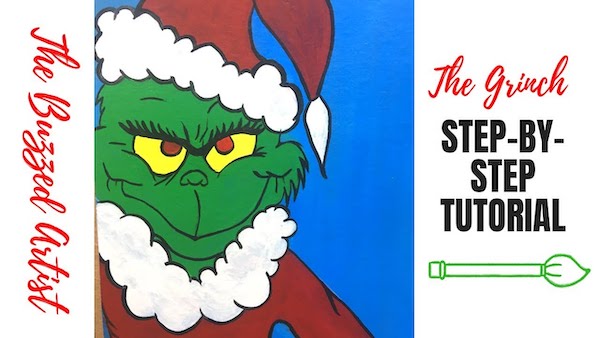 Who doesn't love the biggest grouch of the holiday season? The Grinch has captured our hearts and is a great painting idea you'll love to make and hang up this upcoming holiday.
15. Jack Skellington with Ornament
The skeleton king has made it to Christmas town in this fun rendition of the classic Nightmare Before Christmas story. Here is Jack Skellington's hand holding a red ornament featuring his face. Perfect for fans of the book, movie, or Halloween.
16. Charlie Brown Christmas Tree
Merry Christmas, Charlie Brown! This adorable painting features the classic bending tree holding the big red ornament – a perfect reminder that Christmas is not about big bombastic commercialism but rather humility and peace.
17. Snowy Mountain Palette Knife
A palette knife is a great way to add texture and expressiveness to truly up-level your painting. Make these snowy mountains with pine trees for a more abstract rendition in this step-by-step youtube video.
18. Winter Mittens
Mittens are so crucial for keeping those hands warm – and it's a perfect subject to paint. These mittens feature the iconic knit pattern, fluffy cuffs, and a perfectly loose background for a gorgeous art piece.
19. Winter Galaxy Night with Trees
This acrylic painting features a snowy galaxy sky with two pine trees holding steady against the snow flurries in the air.
20. Winter Landscape
If you're looking for a serene walk in the wintery forest, this painting idea is the perfect way to capture the calm magic.
Final Thoughts on Christmas canvas painting ideas
The Christmas holiday is such a unique, joyful time of year – it's the best way to share your love of art with others, the whole family, or with just yourself. Plus, you can make beautiful paintings that can spruce up bland walls with attention-getting works of art or add a personal touch to your gift-giving. Good news for all.
So whether you're picking up a new hobby or expanding your skills, diving into a great painting experience is a big important step to make, and that is truly a Christmas miracle.
Easy Christmas Canvas Painting Ideas You'll Absolutely Love