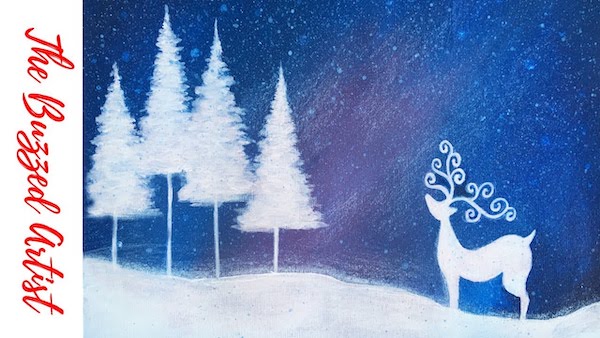 In this step-by-step tutorial, you'll learn to paint a Christmas reindeer looking up into the snowy galaxy night sky using acrylic paints on canvas.
---
Disclaimer: some links used in this post are affiliate links, which means I'll earn a small commission if you purchase using my links at no extra cost to you. I only recommend products I think will be helpful to you and bring you one step closer to creating beautiful acrylic masterpieces!
👉 Want to host a paint party with this tutorial? Here is exactly how you can set up a fun DIY paint party at home.
---
Christmas Reindeer Galaxy Sky Painting Supplies
Brushes
Paints
---
Christmas Reindeer Galaxy Sky Painting Steps
Follow these step-by-step instructions on how to paint your very own painting of Christmas reindeer looking up into the galaxy winter sky.
Step 1: Paint in the Galaxy Sky
With your flat wash brush, load it with blue and a tiny bit of black. Then, using diagonal strokes, paint in the upper 2/3 of your canvas, making sure to leave the bottom third white for the later.
With your rinsed flat wash, load with red and add several paint strokes in the same direction as the previous step, making sure to blend the red into the adjoining blue areas.
Not sure how to blend with acrylics? Follow this step by step guide to blend like a pro.
With your rinsed flat wash, load with a bit of white and proceed to lightly brush on the areas next to the previous red layers, making sure to blend as you do this. You can go back to previous colors to play with the layering. This will help complete the beautiful galaxy looking sky.
Step 2: Add in the snow flurries
With your flat wash brush, load it with white paint that has been heavily diluted with water. Then, pull back the bristles with your finger and release over the canvas to create a splatter effect resembling tiny dots. This represents either the snow flurries or the stars in the galaxy sky. Repeat this to create more stars if you wish.
Step 3: Add in the Snowy Hills
With your filbert brush, load with white paint and paint in the lower third of the canvas, making sure to cover over the area where the galaxy sky meets the ground. I decided to make the hill have some curves for a more natural look.
In addition, I added bigger snowflakes by using the stick end of one of my brushes dipped in white paint. Simply dip the tip into the paint and then tap it gently on your canvas to leave a small circle. Experiment with different size brush wood tips for varying snow flake sizes – i.e. a smaller brush stick will make smaller snowflakes.
Step 4: Add in the Pine Trees
With your flat brush, it's time to make pine trees. Load white onto your flat brush, orient the brush tip so it's aligned vertically and using just the tip, paint a 4″-5″ straight line, starting from the left side of the hill. You just made the trunk of your first pine tree!
Then, to make the pine tree itself, orient your brush horizontally and starting at the top of the tree trunk, tap your brush tip increasing the size of the stroke as you go down the length of the tree. You want to make sure your tree resembles a triangle in shape, small at the top and larger on the bottom.
I chose to make my pine tree trunks have a taller trunk, for a more modern look. You can add more pine needles to your tree if you want a fuller look.
Repeat this step to create lots of different pine trees all at varying heights. I decided to paint in four trees.
Step 5: Add in the reindeer
Using your reindeer stencil, place and trace onto your canvas paper. If you need directions on how to do this, read this helpful post on transferring stencils to paper.
Step 6: Color block the reindeer
Using whatever brush you feel comfortable with, load with white paint and paint in the body and antlers of your reindeer, being sure to move to a detail brush for the smaller, difficult areas like the antlers.
Step 7: Add final details
Then, proceed to add a few little details, like extra snowflakes or stars. From there, you have officially completed your very own reindeer gazing at the snowy galaxy sky painting.
Christmas Reindeer Galaxy Sky | Easy Acrylic Painting Tutorial for Beginners