If you're tired of feeling stuck in a creative rut, there's this new art therapy technique that's growing steadily in popularity and helps you become more creative and overcome fear of perfection….
It's called 'reverse coloring' or 'backwards coloring,' and the concept is fairly simple. 
You get a page that is already pre-painted with colors and all you need to do is draw in what you see with a black pen. That's it. 
Want to try reverse coloring? Check out my printable reverse coloring book!
Its like seeing shapes and animals in the clouds. Except you're using a black pen on paper.
This concept has slowly creeped its way onto the desks of many art channels and had me so curious that I simply had to jump in and try it out for myself and see what the big deal is. 
So let's kick perfectionism in the face and dive into the wild world of reverse coloring and figure out the why, what, and how to actually do this without having a meltdown.
---
Reverse Coloring Art Supplies
The Reverse Coloring Page Setup
A reverse or backward coloring page contains abstract splotches of color, oftentimes very random in appearance and orientation.
My favorite medium to create my colorful reverse coloring pages were watercolors – the gorgeous blends and amorphous quality of the resulting painting was exactly what I was looking for.
I was having so much fun painting and making reverse coloring pages, that I created 40 high-res colorful paintings that are absolutely perfect for reverse coloring activities.
Check out this printable backwards coloring book.
My Printable Reverse Coloring Book
A DOWNLOADABLE Backwards coloring book featuring 40 pages of high resolution colorful paintings – simply draw the lines and doodle away the art block!
How to Unwind and Get your Doodle On with Reverse Coloring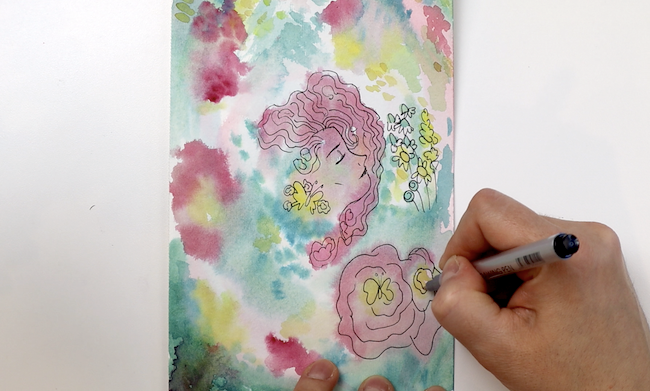 Now, as easy as reverse coloring can be, a few little tips can help send you on your merry creative way to doodle heaven.
Tip 1: Explore & Find the Shapes
Look at the painting in front of you, pick a spot, and think about what that particular thing looks like or resembles to you.
For example, in this coloring page, the first thing I noticed was the purple blobs which made me think about mountains.
So, I went ahead and drew in some mountains.
Then, I continued with the stream of thoughts.
What this mountain needs is a river running through it. And that river is rather lonely, so why not add some shrubs and trees?
Oooh! And maybe there can be a little cottage off to the side of the trees.
See what I mean?
Keep pulling and doodling the string of your thoughts until you have a scene you're deeply satisfied with.
This method of finding shapes is based off a psychological phenomenon called Pareidolia, where we see recognizable shapes in things like clouds, rock formations, tree branches, toast, and paint splatter as it turns out. 
It's a great way to unlock the right brain and see an object past what it actually is and into something it can be.
Want to try reverse coloring? Check out my printable reverse coloring book!
Tip 2: Draw Intricate Patterns and Repetition
Detailed patterns and shapes look amazing on a backwards coloring page – especially if you use such doodle/drawing techniques like:
cross-hatching
repeatable shapes
lines
circles
squiggles
Cross Hatching
Hatching Lines
Repeatable Lines
Repeatable Shapes
rule of thumb: the more details and lines you add, the more intricate your doodle will come out.
Tip 3: Make Doodle-Doos for those Intricate Details
I honestly don't know what else to call this technique, besides Doodle-Doos. Doodle-doos are repeatable lines that follow the same shape/border of what you are drawing around.
One prime example of this is a circle in a circle in a circle. Or having a series of lines that follow the perimeter of a shape over and over again.
It's incredibly simple yet satisfying to see that end result.
Tip 4: Doodle organic shapes for floral elements
If you're not sure what else you can doodle, consider adding organic, floral elements to your reverse coloring experience, including sprigs, twigs, branches, petals, tiny flowers, and intricate leaves.
Sprigs
Petals
Little florals and leaves
and of course, go crazy and add lots of little floral doodles. Remember, the more deets, the better the outcome!
Reverse Coloring: A Tool Every Artist Needs
It is impossible to mess up a reverse coloring page – mainly because there isn't any right or wrong way to do it.
Reverse coloring is a satisfying and fun way to quickly create beautiful doodles and drawings without a whole lot of effort or brain power. Instead, it helps you to tap into your right brain and unleash stress-relieving creative flow. You allow your imagination take hold and be fully present in the here and now.
If you're ready to bust through your art block and try reverse coloring, you might like my printable reverse coloring book that includes 40 pages of detailed, high-resolution, colorful pages that you can download and print as many times you like for infinite creative possibilities.
My Printable Reverse Coloring Book
40 pages of high resolution colorful paintings – simply draw the lines and doodle away the art block!
Create gorgeously colorful doodles without tons of effort or art supplies.
Unblock and just relax
Print as much as you like to get more art ideas