Being kind to our environment is totally possible with art – where we can make upcycled art from the ordinary and mundane items that get little attention or are destined for the trash.
So, in this blog post, let's breathe new life into these discarded items and give them new purpose with easy recycled art project ideas that you'll absolutely love.
---
Disclaimer: some links used in this post are affiliate links, which means I'll earn a small commission if you purchase using my links at no extra cost to you. I only recommend products I think will be helpful to you and bring you one step closer to creating beautiful acrylic masterpieces!
---
Pin it for later! ⤵
What is recycled art?
Recycled art is taking items that are mundane or set to be thrown away and recycling them to provide new functionality and aesthetics. Repurposed or "up-cycled" art can be made with upcycled items like:
newspaper
bottle caps
plastic containers
plastic utensils
bubble wrap
….just to name a few!
What can be made from recycled materials?
When it comes to the creative reuse of items around the house, like newspaper, the myriad of upcycle arts you can make and do are endless, and we will go over this in this post.
---
1. Recycle Newspaper into Canvas
Did you know you can make your own canvas using newspaper? This was an early discovery of mine, and it's actually pretty fun to do. All you need is newspaper, glue, cardboard and just a touch of patience.
---
2. Reuse Acrylic Skins to Make Art and Jewelry
Ever wondered what to do with the leftover acrylic paint from previous projects? Instead of throwing them away, reuse them to create even more art creations. This project here details how to make your own gorgeous art using leftover acrylic skins.
---
3. Create art with Rock Painting
Painting rocks can give your space lots of color and is a super affordable way to use the natural elements around your space. You'll just want to make sure you have rocks with a smooth flat surface for easy painting application.
3a. Create Colorful Mandalas using acrylics and Q-tips
3b. Reuse Rocks to make "Contemporary Art"
You can paint lots of different themes on your rocks, like landscapes, mandalas, or even use a bunch of rocks to make contemporary abstract art!
---
4. Painting with Leaves and Sticks
Going along with rock painting, creating art with natural items like leaves and sticks is a great way to create gorgeous looking textures and brush strokes. You can use leaves as a stamp to press patterns into your canvas or attach a paint brush onto a long stick and use that to paint onto your canvas for a more loose, abstract painting. The possibilities are endless.
---
5. Recycled Art with Paint Swatches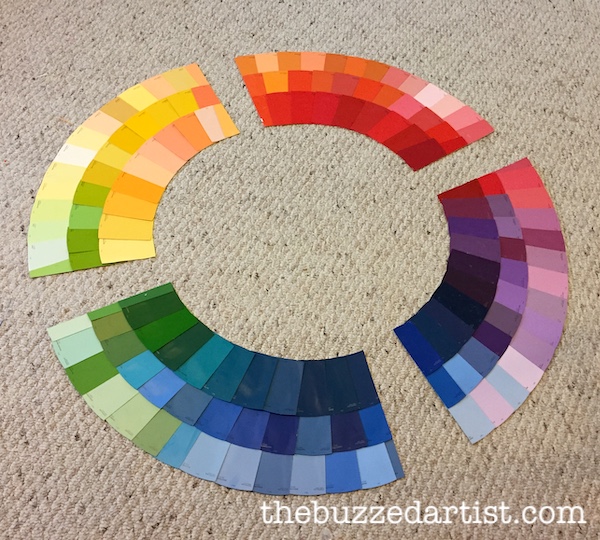 Don't throw away those old paint swatches from your last project! Instead, up-cycle them to create colorful art to add a pop of color to any room in your home. Making paint chip art is a much easier (and affordable) way to create colorful statement pieces- you just need a bunch of color swatches and a lot of patience.
---
6. Kintsugi Inspired Art from Broken Egg Shells
The Japanese tradition of "Kintsugi" is the repairing broken pottery with liquid gold. The value and beauty of the piece is enhanced because of the breakage. In this project, simple eggshells become exquisite, one-of-a-kind pieces of Kintsugi-inspired art pieces with the help of acrylic paint and some gold touches.
---
7. Make Abstract Art with Newspaper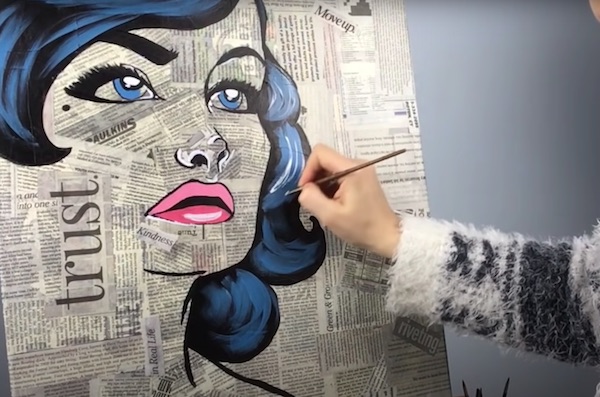 Ever since I started gluing old newspaper to my canvas to use as backgrounds for my art pieces, I was instantly hooked. I love how the newsprint creates a background that isn't too busy – and it's marvelous for adding an abstract feel to your paintings and projects.
---
8. Turn Paper Bags into Cute Pocket Journals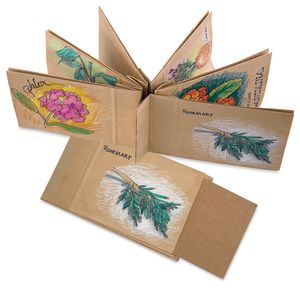 When is an ordinary lunch sack not so ordinary? When it is transformed into a "flip-around" sketchbook/journal with built-in pockets for collecting and storing samples, papers and little notes. You can turn boring paper bags into a portable cute little art journal – customize it with artwork and poems to really make it your own.
---
9. Recycled Art Sculptures from Paper Mache
Ever thought of making your own DIY wall sculpture with recycled materials around your house? The art of paper mache is a timeless one – with just a touch of glue, tissue paper and newspaper, you can create large items and art work that can really add lots of fun color into your home. I made a big donut with rainbow sprinkles using this method and it was an absolute blast to make.
---
10. Trash Landscape Painting
Did you know you can make recycled art using discarded items from the trash? The found objects are collaged onto the canvas and can be used in an illustrative way through their unique textures. To enhance this effect, color is added in the form of acrylic paint.
The sky is the limit here. Use plastic bags, old clothes, plastic bottles, old magazines, utensils, old circuit boards to create a unique work of art.
---
11. Turn an Old Suitcase into Art
Turning those old fashioned hard suitcases into a work if art is such a great use of upcycled materials. Simply grab an old suitcase (if you don't have one on hand, a thrift store usually has them), some acrylics and a brush; you'll be ready to create some cool art piece that will last you a long time.
Making the Most from Your Recycled Art Project Ideas
Recycled art is a great way to reduce your trash output and create something beautiful with waste materials. Not only are you learning environmental values, but you are also building awareness and creativity – helping you grow as an artist and a decent human being.
Related Recycled Art Posts You Might Like
Trash to Treasure: Easy Recycled Art Projects Anyone Can Do