Easy techniques to thicken acrylic paint for more texture and contour while painting
You are sitting at your easel, ready to create another gorgeous acrylic masterpiece. As you load your paint on your brush and begin adding layers to your canvas, you feel the urge to add some texture to your scene.
However, no matter how much paint you add, you end up with a runny, flat, and uninteresting splotch of paint. What can you possibly do to thicken up your acrylic paint to achieve that breath-taking 3D texture you're looking for?
You can simply add any of the following to your acrylic paint to give it that structure you're looking for including:
Adding Acrylic Paint Medium like gel medium or modeling paste
Creating your own DIY acrylic paint medium
Using impasto-style techniques with palette knives and broad brush strokes
Painting with Integrated Textured Items
With that being said, let's dive in a bit deeper into each of these methods and which option(s) you feel are best for your painting masterpiece.
Firstly, why is texture important?
Creating texture in a painting comes with many unique advantages and can really help elevate your painting and unique message to your audience.
Texture adds intrigue to your painting, can convey story or movement depending on the type of strokes or lines produced, can act as a form of interactive therapy, and can serve as a creative challenge for those looking to escape the 2D nature of typical acrylic painting.
Seriously, I have seen some paintings that literally pop out at you from the canvas, thereby creating a whole new user experience and a painting I will never ever forget.
Plus, if you have always loved the look of oil painting, working with thick acrylics is a great alternative – you can harness the layering beauty of oils without the days or weeks of drying time normally associated with oil paints.
so how does one actually thicken up acrylic paint for added texture?
Let's start with the first option which is….
1. Acrylic Painting Mediums
Acrylic painting mediums are manufactured mediums that can be either mixed with acrylic paint to thicken it up or applied on its own onto a canvas to help build texture and appearance of thicker paint. And did I mention acrylic mediums save you money and resources because less acrylic paint is being used in the long run? Trust me, if you want to create thicker paint with texture, you'll be surprised at how much premium acrylic paint tubes you'll scour through. so painting mediums are a God-send! Let's dive into three types of acrylic mediums you can use.
Disclaimer: some links included in this post are affiliate links, which means I will earn a small commission if you purchase through those links at no extra cost to you.
Gel mediums
Gel mediums, like this Liquitex gel medium, are a white creamy medium made of the same acrylic polymers in acrylic paint, thereby effectively thickening acrylic paint without compromising the paint longevity, color, or texture quality. Gel mediums do come in a variety of viscosities and finishes- glossy, semi-glossy and matte, so can choose whatever fits best with your desired paint result.
Of course, if you are looking to thicken your paint, you'll want to choose gel medium that is a higher viscosity than your current acrylic paint viscosity. And best of all, gel mediums dry translucent so it will not get in the way of your actual paint color.
To add gel medium, simply mix a small amount of gel medium at a time into your acrylic paint, making sure to evenly distribute the gel every time (I prefer using a palette knife to do this). Keep adding gel medium until you have reached your desired texture and then proceed to paint like you normally would. You can choose to spread the paint onto your canvas like frosting on a cake or grab a brush and apply your layers. Yup, plain and simple 🙂
Molding/Modeling Paste
Molding or modeling paste, like this one here, is a very thick, highly viscous opaque paste that made with marble dust and acrylic polymer emulsion. Unlike gel mediums, molding paste can only be manipulated using a palette or putty knife and are meant to be used sculpturally, for creating thick heavy textures and three-dimensional surfaces. Once dried, it forms a hard white opaque structure, which you can further sand, sculpt, or paint on.
To mix modeling paste, you'll simply add a bit at a time to your acrylic paint, mixing evenly with a palette knife until you reach your desired thickness. Then you can proceed to paint on your canvas surface with your palette knife. As a caveat, since modeling paste does dry opaque white, your acrylic paint color will be slightly lighter in color, so be sure to keep this in mind.
Texture Gel
I know plenty of artists like to add their own textures like sand to your acrylics, but some manufactured gel mediums have incorporated textural elements like sand, glass beads, stucco, pumice, and fibers into their formula. And since they are commercial-grade, these texture gels are tested to be long-lasting, durable, flexible and effective at sticking onto the canvas. Art brands like Liquitex & Golden carries a variety of texture gels, including sand resin, ceramic stucco, and black lava, just to name a few.
As a caveat, some of these texture gels have some color incorporated into them and will thus dry with that particular color, which can slightly change the color of your acrylic paint should you choose to mix them both while wet. If you are looking to use texture gel, you can consider two options:
Apply the texture gel onto your painting first, let dry, and paint with your desired acrylic color on top
Mix the texture gel evenly into your acrylic paint, paint and get a slightly different color when dried
2. Making DIY Acrylic Paint Medium for Thickening
Of course, some artists (especially those just starting) may gawk at the price of acrylic mediums, and I will admit they are not the cheapest option. Lucky for us, there are some at-home DIY acrylic paint thickening recipes you can use to make your very own acrylic medium.
As a general caveat, compared to commercial acrylic paint mediums, home-made thickeners may not have the durability or longevity to withstand the test of time or the natural elements. Plus, if you attempt to change the viscosity of DIY thickened paint to be thinner, the actual paint mix will begin to degrade in quality and coverage. So please proceed with caution if you would rather make your own thickeners than purchasing commercial ones.
DIY acrylic paint medium
Here is one tutorial from Paint and Pinot in Perth on making your own impasto acrylic medium using just PVA glue and talcum (baby) powder.
Step 1: Mix 1 part talcum powder to 1 part PVA glue in a plastic cup or container
Step 2: If you prefer a thicker consistency, keep adding talcum powder until satisfied
Step 3: Mix evenly into your acrylic paint and paint away!
Thicken acrylic paint with corn starch
Surprisingly, I have seen many artists swear by using corn starch to thicken their acrylic paints in lieu of acrylic medium, thanks to corn starch's thickening properties.
To use corn starch, mix a one and a half cups of water with two tablespoons of cornstarch. Put the mixture in a saucepan and heat it until it produces a thick solution.
Once it cools down, add the solution to the acrylic paint to get the right amount of consistency. You can store any extra solution in a sealed container for future use.
Thicken with joint compound
Joint compound, like this one here, is commonly found in hardware stores and are intended to fill and seal joints; and it is yet another item I have seen artists use to thicken their acrylic paints. Simply mix a small amount of compound to your acrylic paint until you achieve your desired consistency.
Can I thicken acrylic paint with flour or sand?
This is where we enter some shaky territory. Mixing acrylic paint with flour can help thicken the paint, however it may come at a cost. Household or natural items like flour, sand, sawdust, and other natural biodegradable substances will not last as long as their manufactured acrylic medium counterparts and may end up flaking off or even molding on your canvas. Yuck!
So proceed with caution and seriously consider what you intend to do with your final painting. Do you want to give it away as a gift or commission? Is it something for your home? I personally would refrain from DIY thickeners if I am making a painting for someone else or a painting I want to last a very long time. I would rather invest in acrylic mediums and do the job right instead of cutting corners. But do what you think is best.
3. Use the Impasto Style
Impasto painting is simply painting with undiluted paint and works best with very thick paint. When used with various tools, impasto style paintings produce beautifully textured paintings that each give off a certain vibe. Let's look into a few tools that would be great for this style of painting.
Utilize brush strokes for texture
With impasto painting, I love to show off the brush strokes, especially since it creates lines in the paint indicating movement and some sort of "action" in the painting. I typically like to go with broad brushes like flat washes or filberts to give me those large sweeping strokes.
Use a Palette Knife
Sometimes just using a paintbrush doesn't cut the mustard. That's where a palette knife, like these ones, comes into play.
Unlike paint brushes, palette knives don't soak up paint and can easily transfer paint layer by layer with satisfying swiping motions.
If you are looking to build multiple layers, you'll probably need to wait 5-10 minutes before adding another paint layer; however, you can also keep adding wet layer upon wet layer, being careful not to scrape too deep to disturb the previous layer. In the end, you have created a beautiful textured impasto painting rich with layers.
Palette knives are slowly becoming one of my favorite tools to work with because of how interactive and satisfying the process of paint layer building is.
And if you're looking to have some thick paint fun using palette knives, you can try out this awesome painting class by Charlene Von den Eng called Palette Knife Acrylic Painting, where you can make jaw-droppingly gorgeous portraits all while using palette knives. Click here to try the class free for 1 month.
4. Mix in Textured Items to your Paint
I sometimes get weird looks when I mention this, but adding textured items to your acrylic paint is a great way to thicken it up and add all sorts of cool textures. I mean, why the hell not, right? It's paint and once the paint dries, the added textured items stick very well to the canvas. Just make sure you apply a varnish afterwards since textured paintings have a knack for collecting dust over the years.
What are some items I can add to create texture in my paint?
Honestly, practically anything that makes sense for your intended painting. In fact, I as well as other artists have mixed one or more of the following items into our acrylic paints to create thicker, more interesting textures:
sand
pencil shavings
oats
ripped tissue paper
If for example I wanted to create a textured beach scene, I can totally mix in sand with acrylic paint and use that to represent my sandy shore. It produces a beautiful gravel texture that makes my painting come alive.
In the same vein, can I add textured items on top of my painting?
oh hell yes. In fact, there are a ton of beautiful paintings that utilize items like newspaper, small rocks, tissues (basically anything that can stick onto the canvas with paint) that are placed on top of acrylic paint to add a more 3D element. It's truly magical and a great step towards the world of multi-media art.
5. Use Thicker Paint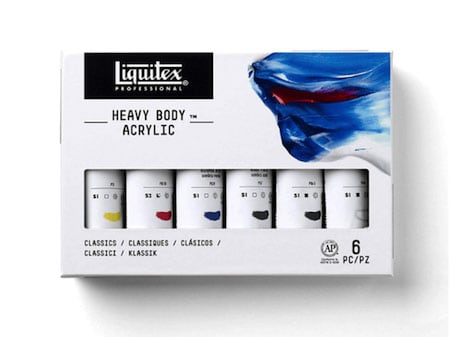 ok sure, this one is pretty obvious but if you are in the market for new paint and really intend to create more textured paintings, I would recommend opting for heavy-body paints, since they contain a high amount of acrylic binders that make it spread almost like peanut-butter in texture.
One of my favorites include Liquitex Professional Heavy body paints which I love using for my impasto palette knife paintings. Of course, there are other paint brands like Golden that also sell heavy body paints, just be sure to check the label to make sure it says "heavy body" on it.
Read More: How to Read a Paint Tube Label Like a Pro
What are your thoughts about my tips for thickening acrylic paint? What methods have you tried to create texture in your paintings? Comment below!
Related Acrylic Paint Technique Posts
What Can You Use to Thicken Up Acrylic Paint for More Texture?