some links below are affiliate links, which means I will receive a small commission at no extra cost to you! If you wish to support my channel and send me a small thank you, be sure to click those links!
ok, I just gotta come out and say it…
I FREAKING LOVE palette knife painting!
the goopy paint globs…
pushing said globs around, feeling it's buttery texture cave under my knife…..
seeing my paint colors swirling and mixing together into a harmonious symphony forming an image…….
It's an immersive experience that plays with your senses of touch, and it's something I recommend every creative to try at least once, ESPECIALLY if you want a break from the standard brushes.
In this step-by-step tutorial for beginners, we dive into palette knife painting techniques by making these aspen trees! And all we are using is just a palette knife and some acrylic paints. Let's get to it!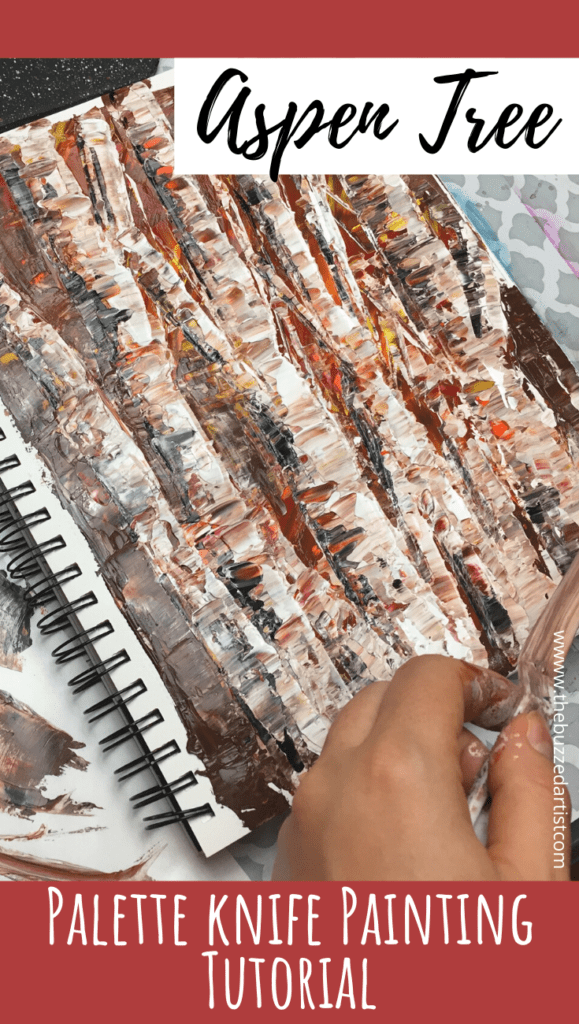 Palette Knife Painting Supplies You'll Need
Love acrylic painting but not sure how or where to start?
So, you're interested in acrylic painting and want to dive into it. That's pretty cool.
However, when it comes to picking brushes, colors, paint brands, and supports (not to mention color-mixing!), you feel a bit overwhelmed and find yourself in a state of uncertainty when picking your tools. If this is you, my free guide The Acrylic Painter's Toolkit will help you get started right.
The Acrylic Painter's Toolkit is shares the right tools you will need to get started on your painting journey – without the headaches or 12,000 trips to the craft store in a single week.
What are your thoughts about this palette knife painting tutorial? Comment below and share!