Acrylic paint is the best (and most forgiving) medium and is a great option for beginner artists who just want to start dipping their toes in the wonderful world of painting.
Their versatility makes them so appealing to both professionals and hobbyists alike, since they are so great for painting on canvas, wood, plastic, paper, styrofoam (and more!). Acrylic paint dries fast on both porous and non-porous surfaces, can be used in a variety of applications, and comes in a wide range of colors.
Read more: How to choose the best type of acrylic paint for your project
But when you're on the hunt for what type of acrylic paint you should get, the never ending list does get very overwhelming.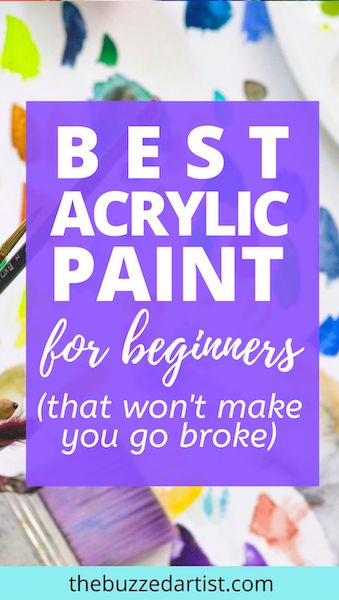 So, here is a list of beginner-friendly acrylic paints that are good quality and won't blow a gigantic hole in your budget.
---
Disclaimer: some links used in this post are affiliate links, which means I'll earn a small commission if you purchase using my links at no extra cost to you. I only recommend products I think will be helpful to you and bring you one step closer to creating beautiful acrylic masterpieces!
---
1. Apple Barrel ACRYLIC Paint
Apple Barrel acrylic paints are well beloved amongst crafters and beginner artists alike – and for good reason.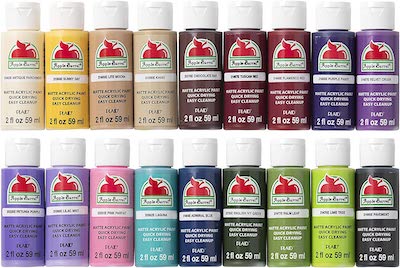 These acrylic paints from the Plaid company (who also makes crafter faves like modge podge) come in a 2 fluid ounce squeeze bottles with a pop up cap for easy pouring and storage.
It has dozens of different paint colors from muted neutrals to vibrant pigments, has great coverage with a creamy texture, and offers 3 types of finishes -matte, satin, and glossy.
Best of all, they are very affordable. AND, if you can find each bottle for under $0.75, it's a great deal!
Plus, they've been voted as Amazon's Choice. So, it kind of speaks for itself.
2. Folk Art Acrylic Paint
Folk Art acrylic paints are another general favorite for decorative painters and fledgling artists (and is also the sister company to the crafter favorite Apple Barrel).
From hand paintings to stenciling, Folk Art paints can bring a lot to the table with versatility, and can be used on lots of surfaces like wood, canvas, paper, styrofoam, and paper mache (just to name a few).
Folk Art acrylic paint comes in a wide variety of colors (from subtle hues to bold pigments) and is the preferred medium for lots of beginner artists on a budget, with prices hovering around $0.62-$0.87/fl oz depending on whether you buy them individually or part of a set.
FolkArt paint has a rich, creamy consistency that helps with blending and provides excellent coverage. Plus, they come in 2 floz tubes with pop caps that makes it ideal for squeezing out paint and storing.
Folk Art vs Apple Barrel Paint
Yep, both these paints come from the same umbrella company Plaid; however, they do have some major differences, which according to the company website comes down to this….
Apple Barrel are all-purpose acrylic craft paint, while Folk Art is high quality pre-mixed paint with a rich consistency (which I assume means they are great for texture work). Folk Art has the reputation for being the decorative artist and painter's paint of choice, while Folk Art is more for crafters.
3. Liquitex Basics Acrylic Paint
The art company Liquitex carries student-grade paint called BASICS. This type of acrylic paint is perfect for the beginner looking to experiment with color mixing and get the hang of the feel of acrylics without needing dozens of paint tubes or putting a huge dent in the wallet.
Speaking of huge dents in wallets….
Yes, I will admit that Liquitex Basics is a bit more expensive than Apple Barrel, coming in around $1.50/fl oz compared to about $0.27/fl oz that Apple Barrel offers.
But…
….and this is a BIG but...
You really do see a difference in paint quality.
It's taking your paintings from craft-level to dedicated canvas-level.
And if you're wanting to see where your acrylic painting adventures will take you, doing that with a paint that is meant for that purpose is KEY.
Liquitex Basics come in many different colors, ranging from subtle to bold hues…
But when I first started painting, I just had three primary colors, white and black…and that's it.
I was able to learn color mixing and make almost every color in the rainbow.
Meaning I didn't need dozens of paint tubes or pre-mixed colors. I could just make them myself -and save myself beaucoup dollars doing THAT. #lessismore
My personal favorite things about the BASICS are their deep color pigmentation and awesome permanence (meaning the colors won't fade for a long time). Plus, it's formulated such that you can experiment with texture and brush strokes – taking your painting experience up a notch.
Perhaps I'm a little biased because these are the paints I started using when I first dabbled with acrylic painting…but they really deliver.
More Beginner Friendly Art Related Topics