Paint a black raven in this easy Halloween-themed step-by-step acrylic painting tutorial for beginners
If there is something I adore about this time of year, it's anything Edgar Allen Poe. In particular, his haunting depiction of The Raven, which is what inspired this painting.
In this post, you'll learn how to make a Black Raven in this step by step acrylic painting tutorial made just for beginners. Follow along with me and get jiggy with some Halloween magic.
---
Disclaimer: some links used in this post are affiliate links, which means I'll earn a small commission if you purchase using my links at no extra cost to you. I only recommend products I think will be helpful to you and bring you one step closer to creating beautiful acrylic masterpieces!
---
Midnight Raven Halloween Painting Supplies
Brushes
Paints
---
Midnight Raven Halloween Painting Steps
Follow these step-by-step instructions on how to paint your very own midnight raven.
Paint in the background
Starting with yellow and a bit of white, create a circle of yellow starting at the right area of the canvas. Then, load your brush with a bit of red and continue creating curved strokes going around the yellow area, making sure to blend into the yellow to create a subtle orange color.
Not sure how to blend? Read this post to blend paint like a pro.
Continue adding another color by loading your brush with blue and creating curved strokes following the same shape as the red and yellow. Carry the blue all the way to the left most portion of the canvas.
Trace and Paint in the Raven Body
Using your raven stencil, place and trace onto your canvas paper. If you need directions on how to do this, read this helpful post on transferring stencils to paper.
Then with a mix of your flat wash and/or filbert brush, load it with black and paint in the entire raven stencil. We'll be adding details in the next step.
Add in the Feather Details
With your detail round brush loaded with a mix of white and black to make a gray color, lightly add in small strokes throughout the entire raven body. A good trick is to make sure your lines follow the curves of the body, and be sure to vary your line heights and curves for a bit more texture.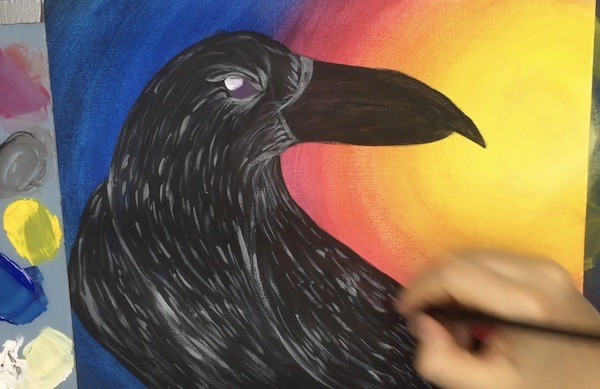 You can even add a few embellishments like a highlight on the bird eye and on the raven beak.
Add in the Poe-try
Now that you've got your sweet looking raven, you can either call it done or add text from your favorite poem or literature – in my case, I went with an excerpt from The Raven from Edgar Allen Poe. You can use a black marker or detail round brush with black to write the words in the background.
Once you are satisfied with your work, step back and admire your newly made midnight raven.
Want to remember this Midnight Raven painting tutorial? Pin this to your favorite Pinterest board.